Product Description
PET Monofilament Expandable Braided Cable Sleeves

PET Monofilament Expandable Braided Cable Sleeves, Black Braided Cable Sleeving is braided by halogen-free environmental PET monofilament, with good flame retardancy, heat insulation properties, scalability, can satisfy the request of various industrial fields on abrasion resistance, especially its unique weaving structure can be expanded to 1.5 times larger than the original diameter size, Braided Sleeves suitable for package wiring harness, ensure its smoothly go through the huge volume connector.
Plastic Braided PET Expandable Sleeving, Braided Electrical Sleeving offers an excellent protection in many industrial applications and also can provide an agreeable personalization and identification of the brand.
PET Braided Electric Expandable Sleeving, Braided Polyester Sleeving , Braided Cable Sleeve it is the Tight, High Quality, High Density, Matte, Solid Sleeving which protects and hides wires while increasing air flow.

Product application:
Black and grey: widely used in computer power cord, wire harness, rubber hose, wire processing and other industries, have the protection and beautification effect.
Colorized: suitable for computer electric supply wire, A/V the power cord, audio video wire, HDMI wire, etc. Have the effects of protection and beautification.
Patter color: is advantageous to promote and identify the trademark and brand image.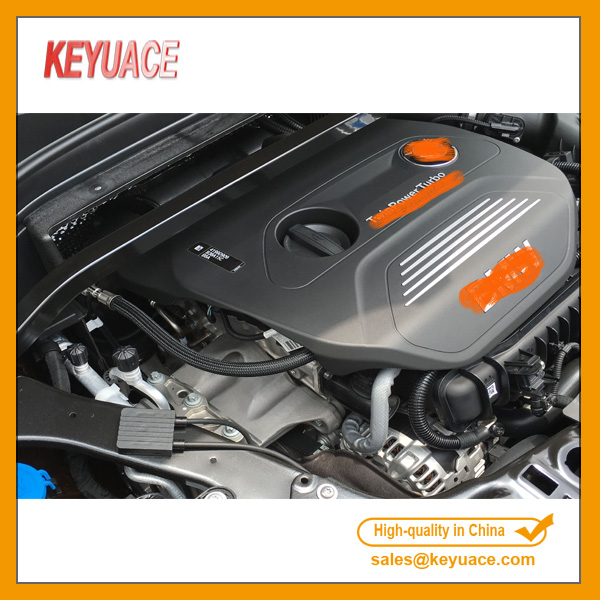 Technical indexes:
Material quality: polyester
Working temperature: - 50 degrees C to 125 degrees C
Melting point: 240 ± 10 degrees C
Level of flame retardant: VW - 1
Standard color: black, gray, color
Certification: meet the UL, ROHS, REACH, halogen free certification.
Cutting tools: keen knife
Product size drawing: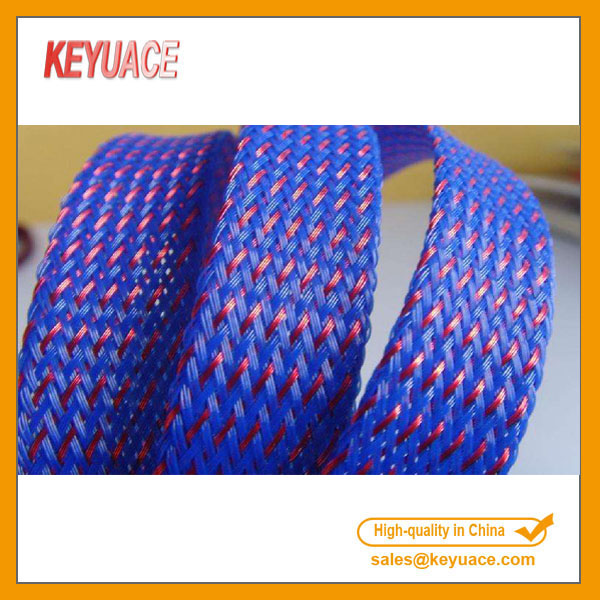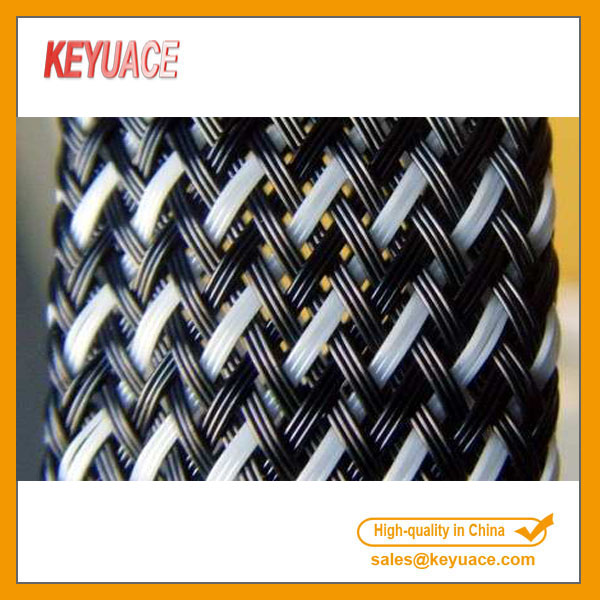 Remark:
1, inner diameter is the diameter when the sleeving is roundness, not the lay plat width.
2, special packaging, special color, etc, can be customized according to customer's requirements.
3, product detail parameters, please refer to our approval sample sheet.
Part NO.

Lay flat(W)

Bundle DIA

Packaging(L)

Inch

MM

Min.(mm)

Max.(mm)

KY-PET/FR003

1/8"

3

1

6

1000m/roll

KY-PET/FR006

1/4"

6

3

9

500m/roll

KY-PET/FR008

5/16"

8

5

12

350m/roll

KY-PET/FR010

3/8"

10

7

17

350m/roll

KY-PET/FR012

1/2"

12

8

20

300m/roll

KY-PET/FR016

5/8"

16

10

27

250m/roll

KY-PET/FR019

3/4"

19

14

30

200m/roll

KY-PET/FR025

1"

25

18

33

200m/roll

KY-PET/FR032

1-1/4"

32

20

50

150m/roll

KY-PET/FR038

1-1/2"

38

30

60

100m/roll

KY-PET/FR045

1-3/4"

45

35

75

100m/roll

KY-PET/FR050

2"

50

40

80

100m/roll

KY-PET/FR064

2-1/2"

64

45

105

100m/roll

KY-PET/FR076

3"

76

64

120

100m/roll