Product Description
180PCS Wire Wrap Electrical Insulation Heat Shrink Tubing

180PCS Wire Wrap Electrical Insulation Heat Shrink Tubing is made of radiation cross-linked polyolefin, has excellent physicochemical and electrical properties. Polyolefin Heat Shrink Sleeve for Pipes, Shrink Wrap Tubing Kit can reliably insulate cable and wire splices and terminations, effectively protect soldered joint and provides good mechanical protection for wire harness in electronic, communications, automotive, shipping and aircraft manufacturing industries.
PE Material Heat Shrink Tubing Kit, The outer layer has excellent insulation, wear and corrosion resistant performances. Heat Shrinkable Tubing Kit Inner layer has the excellence of low melt point and waterproof etc. It has passed UL, RoHS, Reach certifications with 600V and 300V.
Heat Shrink Insulation Pipe, Heat Shrink Sleeve Kit, Thin wall Heat Shrink Tubing Kit, Shrink Tube Kit composition ideal for wholesalers, small shops, automotive repair shops or any electrical work shops.
180pcs mixed colors wire wrap electrical insulation tubing heat shrink tube

Yes

Heat Shrinkable

Polyolefin

Low Voltage

2:1

Yellow & Green & Red

2.5mm,3.0mm

+70°C

+110°C maximum

-55°C to +125°C

10.4 Mpa

600V

Flame Retardant

UL Approved

Supplied format (round or flat) :

Product is supplied flat

Scissors or sharp knife
Package Includes :

( Quantity x Supplied internal diameter x Single length )

1 x Plastic Box

30pcs x 2.5mm x 100mm (

Red

)

30pcs x 3.0mm x 100mm (

Red

)

30pcs x 2.5mm x 100mm (

Green

)

30pcs x 3.0mm x 100mm (

Green

)

30pcs x 2.5mm x 100mm (

Yellow

)

30pcs x 3.0mm x 100mm (

Yellow

)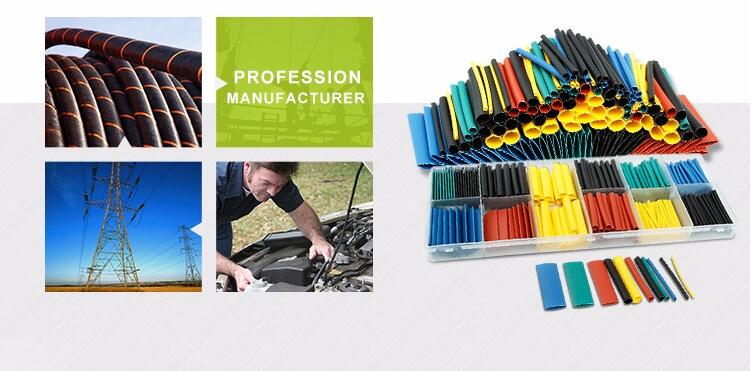 Application: all kinds of wiring harness, solder joints, inductance insulation protection.
Features: high temperature shrinkage, soft, flame retardant, fast shrink, stable performance.
Environmental performance:
Environmentally friendly heat-shrinkable tubing
is a flame-retardant heat-shrinkable casing, the composition of the material for the polyolefin plus the amount of flame retardants and additives.
The contents of lead (Pb), cadmium (Cd), mercury (Hg), hexavalent chromium (Cr6 +), polybrominated biphenyls (PBB) and polybrominated diphenyl ethers (PBDE) were in line with EU ROHS 2.0 (2011/65 / EC) Detected by SGS.
These tubes can be cut by scissors and use a heat gun to quickly tighten the connection to fit the existing wire. When the temperature reached 70 Fahrenheit, the tube will be shrinkable. The tubes can protect any objects with waterproof, flame retardant, insulation and other functions.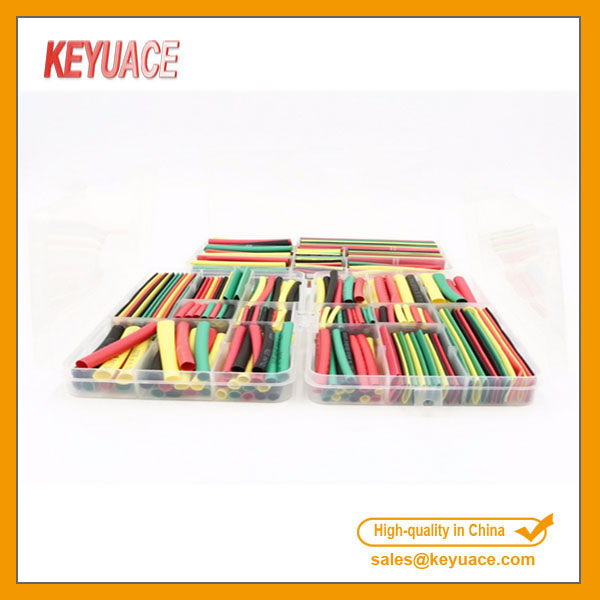 SIZE

(MM)

As supplied (mm)

After recovered

Standard Length(Meter)

Application

Range(mm)

Inner diameter(D)

Wall Thickness(T)

Inner

diameter

( d )

Wall

thickness

( t )

m/roll

φ0.6

0.9±0.2

0.20±0.05

≤0.40

0.33±0.10

200

0.5~0.7

φ0.8

1.1±0.2

0.20±0.05

≤0.50

0.33±0.10

200

0.6~0.8

φ1.0

1.5±0.2

0.20±0.05

≤0.65

0.36±0.10

200

0.75~0.9

φ1.5

2.0±0.2

0.20±0.05

≤0.85

0.36±0.10

200

0.95~1.4

φ2.5

3.0±0.2

0.25±0.05

≤1.30

0.45±0.10

200

1.4~2.3

φ3.0

3.5±0.2

0.25±0.05

≤1.50

0.45±0.10

200

1.6~2.7

φ2.0

2.5±0.2

0.25±0.05

≤1.00

0.45±0.10

200

1.1~1.8

φ3.5

4.0±0.2

0.25±0.05

≤1.80

0.45±0.10

200

1.9~3.2

φ4.0

4.5±0.2

0.25±0.05

≤2.00

0.45±0.10

200

2.1~3.6

φ4.5

5.0±0.2

0.30±0.08

≤2.30

0.56±0.10

100

2.4~4.0

φ5.0

5.5±0.2

0.30±0.08

≤2.50

0.56±0.10

100

2.6~4.5

φ5.5

6.0±0.2

0.30±0.08