Product Description
Adhesive Heat Shrink Tube with Glue
Product Description

Adhesive Heat Shrink Tube with Glue(Waterproof Dual Wall Tubing )the outer layer makes by polyolefin PE material which is flame-resistant, semi-hard and wear-resistant. High shrink ratio, good adhesion performance, and the physical &chemical properties are also good. So it can protect the wire harness very well.

Adhesive Heat Shrink Tube(Polyolefin Dual Wall Tubing) the inner PA hot melt adhesive/or EVA hot melt adhesive :
High temperature resistance, waterproof, damp-proof, corrosion resistance.

Dual Wall Tubing apply to automobile wire harness, household wire harness, wire and cable branch, metal pipeline where need insulated protection.
Colorful Dual Wall Heat Shrink Tubing(waterproof heat shrink) is characterized by halogen free, Flame resistant.This kind of Heat Shrink Tube is environmentally friendly, soft, Insulation, shrink at low temperature. Voltage level of this heat shrink tube is 600V.
Features & Benefits
1, Semi-hard materials, flame resistance, abrasion resistance, anti-UV.
2, High shrink ratio: 4:1
3, Superior sealing, waterproof, dampproof, corrosion resistance.

Operating Indexes
1, First Shrink Temp.:70 degrees C
2, Final Shrink Temp.:125 degrees C
3, Working Temp.:-45~135 degrees C

Up to standard: Approvals
According with ROHS,135℃, 600V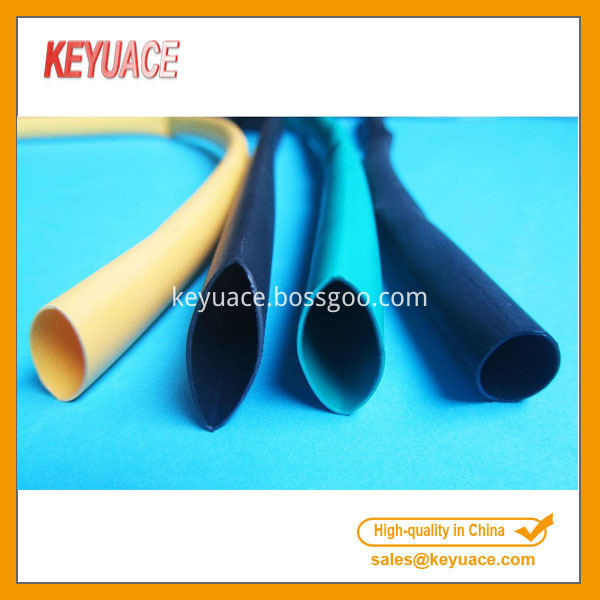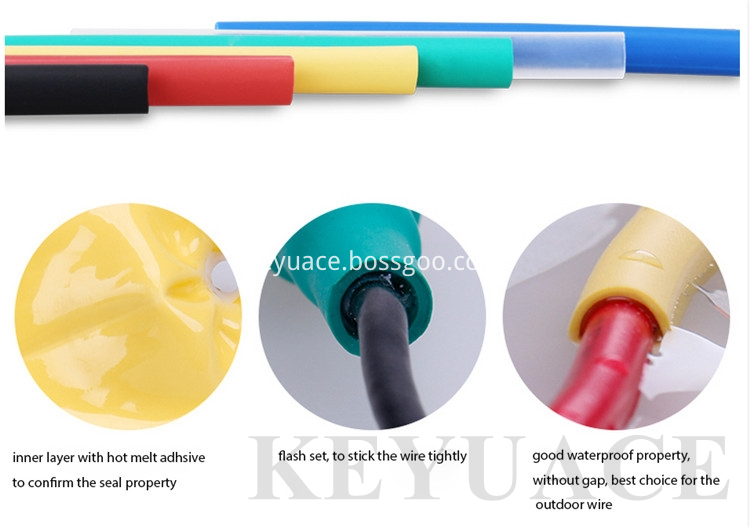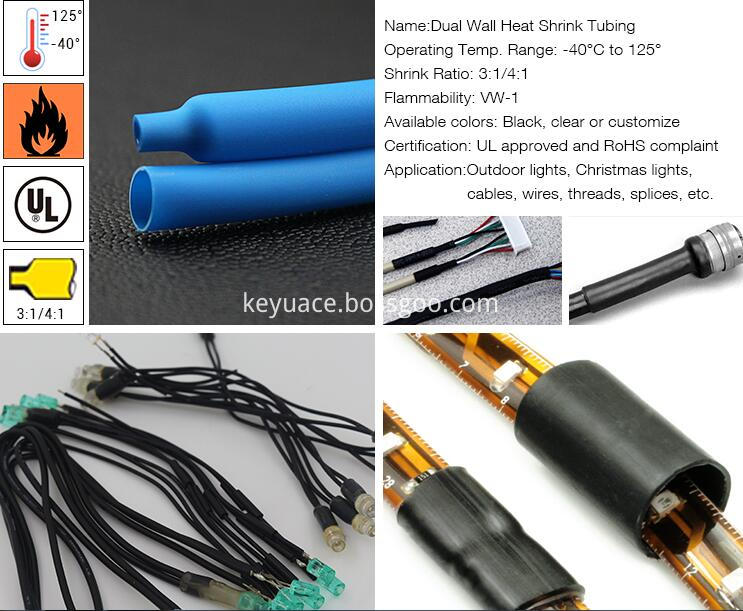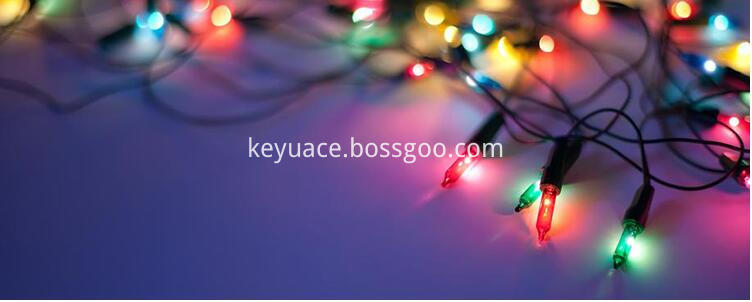 Properties :
Product Properties

Test method

Test Date

Longitudinal shrink ratio

UL224

≥0~±5%

Tensile strength

ASTM D 2671

15MPa

Elongation at break

ASTM D 2671

≥400%

Tensile strength after aging

158℃,168hrs

≥13MPa

Elongation after aging

≥300%

Breakdown strength

IEC 93

≥20KV/mm

Corrosion

ASTM D 2671

Pass

Flammability

VW-1

Pass

Volume resistance

IEC 60093

≥1014Ω.cm(min.)

Hot melt adhesive technology index

water absorption

110 ± 5℃

ASTM E 28

Softening point

< 0.5%

ASTM D 570

peel strength (PE)

≥120N/25mm

ASTM D 1000

peel strength (AI)

≥80N/25mm

ASTM D 1000
Dimension :
Nominal Size

As supplied (mm)

After recovered ( mm )

Standard

Packing

(M/Roll)

(Inch)

(mm)

D :Inside

diameter

d :Inside diameter

T: Total wall thickness

t. : Adhesivel thickness

HUS-3X(3:1)

3/32

Φ2.4

≥2.4

≤0.80

0.80±0.30

0.40±0.20

200

1/8

Φ3.2

≥3.2

≤1.00

0.90±0.30

0.40±0.20

200

3/16

Φ4.8

≥4.8

≤1.60

1.05±0.30

0.40±0.20

100

1/4

Φ6.4

≥6.4

≤2.20

1.25±0.30

0.45±0.20

100

5/16

Φ7.9

≥7.9

≤2.70

1.35±0.30

0.45±0.20

100

3/8

Φ9.5

≥9.5

≤3.20

1.45±0.30

0.50±0.20

50

1/2

Φ12.7

≥12.7

≤4.20

1.65±0.30

0.50±0.20

1.22

5/8

Φ15.0

≥15.0

≤5.20

1.80±0.30

0.55±0.30

1.22

3/4

Φ19.1

≥19.1

≤6.30

1.95±0.30

0.60±0.30

1.22

1

Φ25.4

≥25.4

≤8.50

2.00±0.40

0.60±0.30

1.22

1-1/4

Φ30.0

≥30.0

≤10.20

2.15±0.40

0.65±0.30

1.22

1-1/2

Φ39.0

≥39.0

≤13.50

2.45±0.40

0.75±0.30

1.22

2

Φ50.0

≥50.0

≤17.00

2.75±0.40

0.80±0.30

1.22

2-1/2

Φ64.0

≥64.0

≤21.00

3.05±0.40

1.05±0.30

1.22