Product Description
280pcs Colorful Electrical Cable Kits Shrinkable Tube

280pcs Colorful Electrical Cable Kits Shrinkable Tube , Shrink Tube Kit is made of radiation cross-linked polyolefin, Heat Shrink Tubing Kit , Heat Shrink Sleeve Kit has excellent physicochemical and electrical properties. Heat shrink thin walled tube cable insulation can reliably insulate cable and wire splices and terminations, effectively protect soldered joint and provides good mechanical protection for wire harness in electronic, communications, automotive, shipping and aircraft manufacturing industries.
Shrinkable Tube Polyolefin Heat Shrink Tubing, Shrink Wrap Tubing Kit thin wall tubing composition ideal for wholesalers, small shops, automotive repair shops or any electrical work shops.
Specification :
Size : 8
Quantity : 280PCS
Material : Polyolefin
Supplied internal diameter : 1mm, 2mm, 3mm, 4mm, 5mm, 6mm, 8mm, 10mm
Fully shrunk internal diameter : 0.5mm, 1mm, 1.5mm, 2mm, 2.5mm, 3mm, 4mm, 5mm
Shrinkage Ratio : 2 : 1 (will maximum shrink to 1/2 of its supplied diameter)
Total length : 12.6m

*Other design can be produced as Customer request.
Application: all kinds of wiring harness, solder joints, inductance insulation protection.
Features: high temperature shrinkage, soft, flame retardant, fast shrink, stable performance.
Conditions of Use
Use temperature: -55 degrees C ~ 125 degrees C.
Can be used in acid and alkali conditions for a long time.
Can be used in environmental conditions under strict conditions for long-term use.
Shrink performance
Initial shrinkage temperature of 70 degrees C;
Complete shrinkage temperature of 125 degrees C
Environmental performance
Environmentally friendly heat-shrinkable tubing
is a flame-retardant heat-shrinkable casing, the composition of the material for the polyolefin plus the amount of flame retardants and additives.
The contents of lead (Pb), cadmium (Cd), mercury (Hg), hexavalent chromium (Cr6 +), polybrominated biphenyls (PBB) and polybrominated diphenyl ethers (PBDE) were in line with EU ROHS 2.0 (2011/65 / EC) Detected by SGS.
These tubes can be cut by scissors and use a heat gun to quickly tighten the connection to fit the existing wire. When the temperature reached 70 Fahrenheit, the tube will be shrinkable. The tubes can protect any objects with waterproof, flame retardant, insulation and other functions.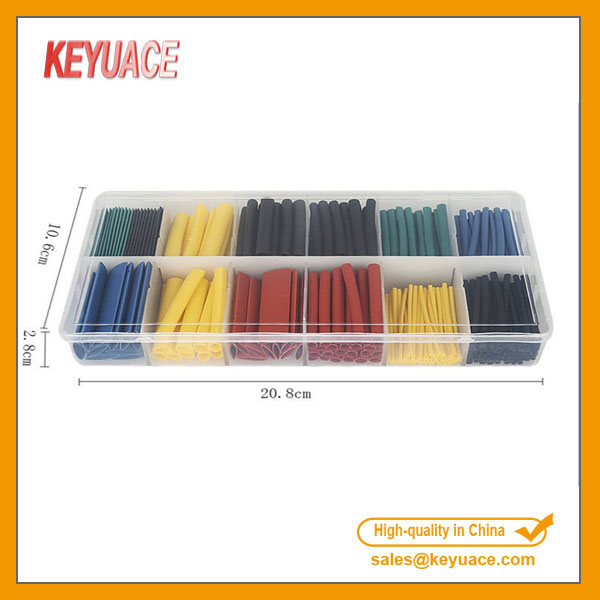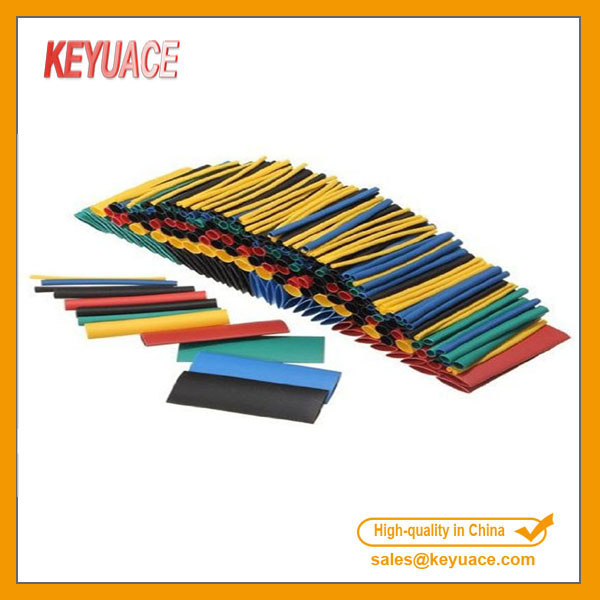 SIZE

(MM)

As supplied (mm)

After recovered

Standard Length(Meter)

Application

Range(mm)

Inner diameter(D)

Wall Thickness(T)

Inner

diameter

( d )

Wall

thickness

( t )

m/roll

φ0.6

0.9±0.2

0.20±0.05

≤0.40

0.33±0.10

200

0.5~0.7

φ0.8

1.1±0.2

0.20±0.05

≤0.50

0.33±0.10

200

0.6~0.8

φ1.0

1.5±0.2

0.20±0.05

≤0.65

0.36±0.10

200

0.75~0.9

φ1.5

2.0±0.2

0.20±0.05

≤0.85

0.36±0.10

200

0.95~1.4

φ2.5

3.0±0.2

0.25±0.05

≤1.30

0.45±0.10

200

1.4~2.3

φ3.0

3.5±0.2

0.25±0.05

≤1.50

0.45±0.10

200

1.6~2.7

φ2.0

2.5±0.2

0.25±0.05

≤1.00

0.45±0.10

200

1.1~1.8

φ3.5

4.0±0.2

0.25±0.05

≤1.80

0.45±0.10

200

1.9~3.2

φ4.0

4.5±0.2

0.25±0.05

≤2.00

0.45±0.10

200

2.1~3.6

φ4.5

5.0±0.2

0.30±0.08

≤2.30

0.56±0.10

100

2.4~4.0

φ5.0

5.5±0.2

0.30±0.08

≤2.50

0.56±0.10

100

2.6~4.5

φ5.5

6.0±0.2

0.30±0.08

≤2.75

0.56±0.10

100

2.85~5.0

φ6.0

6.5±0.2

0.30±0.08

≤3.00

0.56±0.10

100

3.1~5.4

φ7.0

7.5±0.3

0.30±0.08

≤3.50

0.56±0.10

100

3.7~6.3

φ8.0

8.5±0.3

0.30±0.08

≤4.00

0.56±0.10

100

4.2~7.2

φ9.0

9.5±0.3

0.30±0.08

≤4.50

0.56±0.10

100

4.7~8.0