Product Description
Colorful Insulating Heat Shrink Tubing

Colorful Insulating Heat Shrink Tubing , Shrink Wrap Tubing Kit By the irradiation of cross-linked polyolefin material composition, the scientific formula, mechanical blending into high polymer alloy, Heat Shrink Tubing Kit , Shrink Tube Kit the product after the formation of electronic accelerator irradiation cross-linked, continuous expansion from.
PE Material Heat Shrinkable Tubes, Heat Shrink Sleeve Kit , thin wall tubing composition ideal for wholesalers, small shops, automotive repair shops or any electrical work shops.
Colored Heat Shrink Tube Kit with Plastic Bag Colorful Lowest Price.
* Large sizes are available
* Soft and flexible.
* Flame retardant, excellent sealing capability and Excellent Water Resistance.
Features:
100% brand new and high quality
Color: Yellow, Blue, Black, Green, Red
Supplied internal diameter: 1mm, 2mm, 3mm, 4mm, 6mm, 8mm, 10mm, 14mm
Fully shrunk internal diameter: 0.5mm, 1mm, 1.5mm, 2mm, 2.5mm, 3mm, 4mm, 5mm

Specifications:
Material: Polyolefin
Color: Yellow, Blue, Black, Green, Red
Shrinkage Ratio: 2 : 1 (will maximum shrink to 1/2 its supplied diameter)
Material : Polyolefin
Minimum Shrinkage Temp : +70 centigrade
Full Shrinkage Temp : +110 centigrade (maximum)
Operating Temperature : -55 centigrade to +125 centigrade
Tensile strength: 10.4 Mpa
Dielectric strength : 15 KV/mm
Flammability : Flame Retardant
Cutting method : Scissors or sharp knife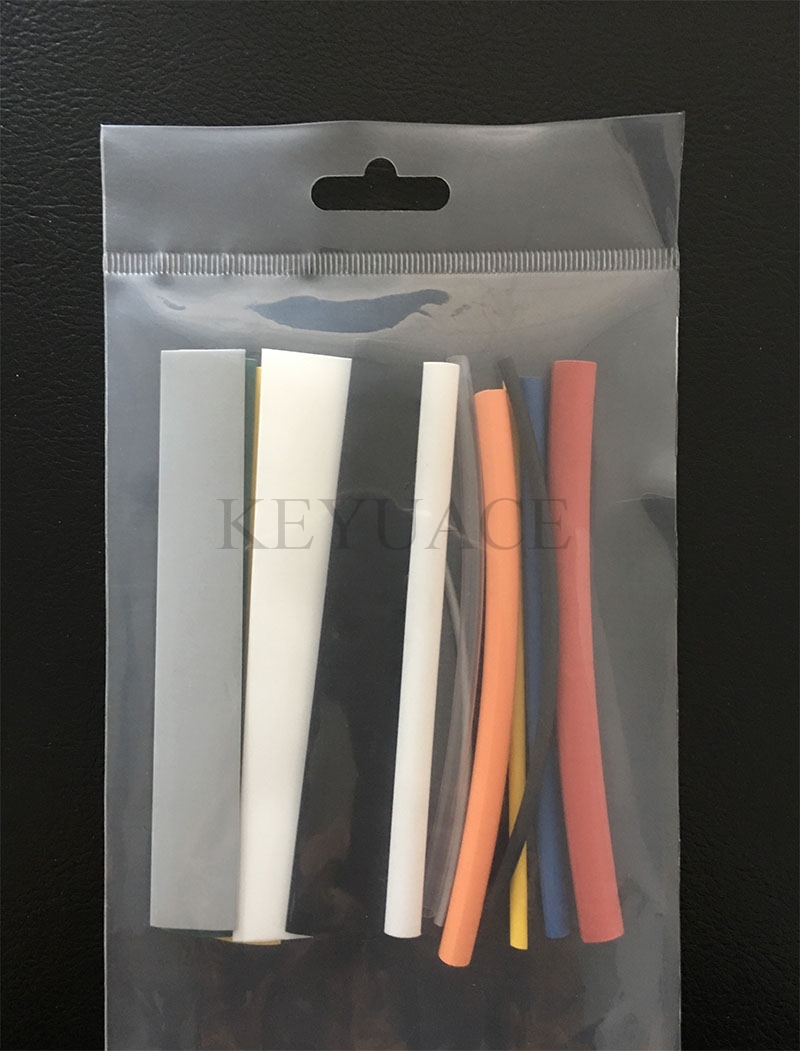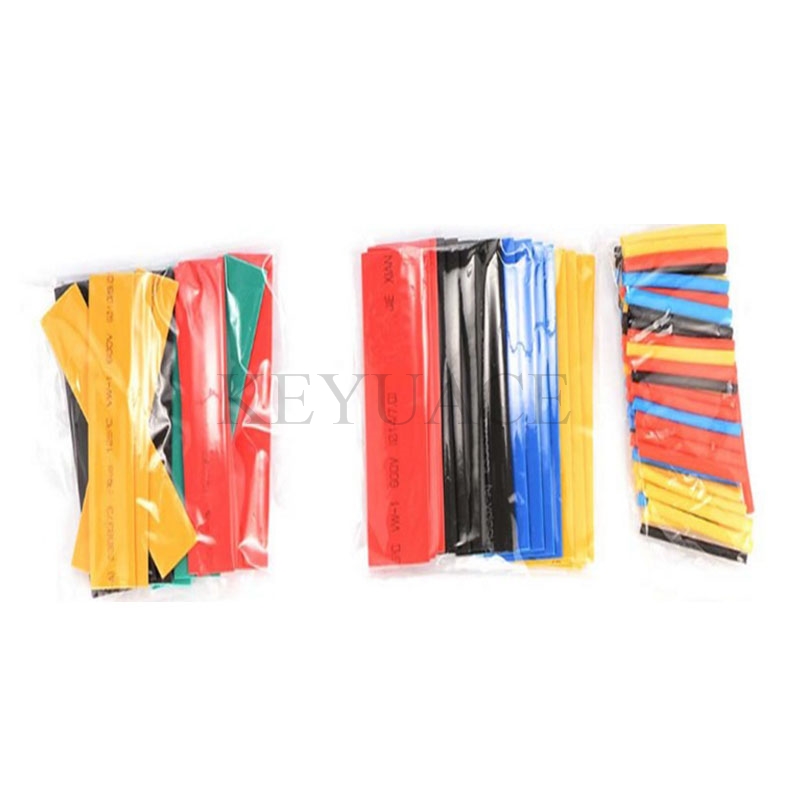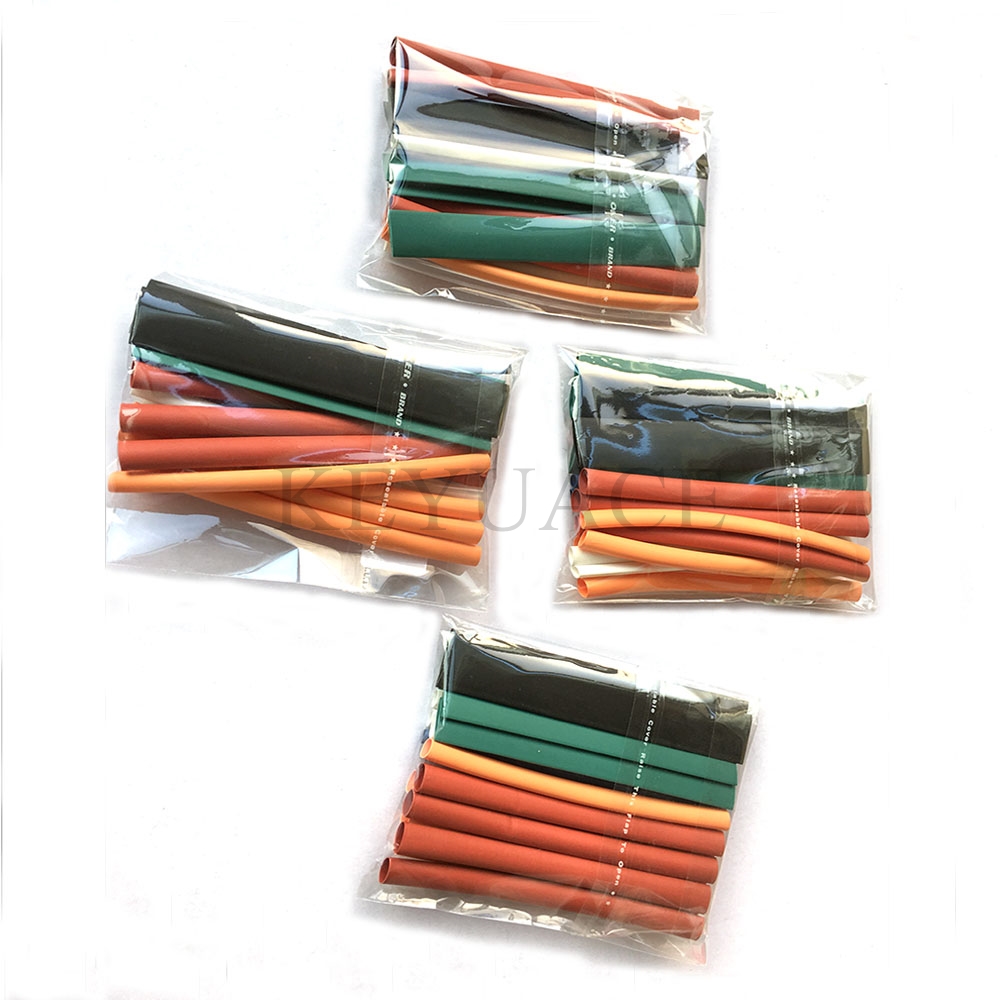 SIZE

(MM)

As supplied (mm)

After recovered

Standard Length(Meter)

Application

Range(mm)

Inner diameter(D)

Wall Thickness(T)

Inner

diameter

( d )

Wall

thickness

( t )

m/roll

φ0.6

0.9±0.2

0.20±0.05

≤0.40

0.33±0.10

200

0.5~0.7

φ0.8

1.1±0.2

0.20±0.05

≤0.50

0.33±0.10

200

0.6~0.8

φ1.0

1.5±0.2

0.20±0.05

≤0.65

0.36±0.10

200

0.75~0.9

φ1.5

2.0±0.2

0.20±0.05

≤0.85

0.36±0.10

200

0.95~1.4

φ2.5

3.0±0.2

0.25±0.05

≤1.30

0.45±0.10

200

1.4~2.3

φ3.0

3.5±0.2

0.25±0.05

≤1.50

0.45±0.10

200

1.6~2.7

φ2.0

2.5±0.2

0.25±0.05

≤1.00

0.45±0.10

200

1.1~1.8

φ3.5

4.0±0.2

0.25±0.05

≤1.80

0.45±0.10

200

1.9~3.2

φ4.0

4.5±0.2

0.25±0.05

≤2.00

0.45±0.10

200

2.1~3.6

φ4.5

5.0±0.2

0.30±0.08

≤2.30

0.56±0.10

100

2.4~4.0

φ5.0

5.5±0.2

0.30±0.08

≤2.50

0.56±0.10

100

2.6~4.5

φ5.5

6.0±0.2

0.30±0.08

≤2.75

0.56±0.10

100

2.85~5.0

φ6.0

6.5±0.2

0.30±0.08

≤3.00

0.56±0.10

100

3.1~5.4

φ7.0

7.5±0.3

0.30±0.08

≤3.50

0.56±0.10

100

3.7~6.3

φ8.0

8.5±0.3

0.30±0.08

≤4.00

0.56±0.10

100

4.2~7.2

φ9.0

9.5±0.3

0.30±0.08

≤4.50

0.56±0.10

100

4.7~8.0

φ10

10.5±0.3

0.30±0.08

≤5.00

0.56±0.10

100