Product Description
Custom Perforated Heat Shrinkable Tube

Custom Perforated Heat Shrinkable Tube made from polyolefin material PE or EVA material, Process Insulated Sleeve, Ultra Thin Wall Heat Shrink Tubing have the function of the insulation, protection, suitable for electronic components, wire coating and wire and cable junction terminal protection, but also have the effect of color logo.Has been widely used in electronics, electrician, electrical and other industries.
Protective sleeves widely use for fishing rod typically used for non-slip, non-skid decorative purpose for handles and grips on high grade fishing tackle, sport equipment, fitness equipment, daily supplies, various tools, kitchenware etc


Perforated Heat Shrinkable Tube, Thin Heat Resistant Shrink Tubing is idea for skip-proof and decorative purpose with the unique flannel surface decoration to provide excellent sweat absorption and durable abrasion resistance. Custom Thin Wall Heat Shrink Tubing, this kind of product has the advantages of environment-frendliness,good flexibility,skid-proof,good appearance,fast shrinkage and stable performance.
Thin Wall Polyolefin Heat Shrink Tubing,Waterproof Heat Shrink Tubing is very flexible and is easily marked by hot-stamp or printwheel methods.

Custom Thin Wall Heat Shrink Tubing Pictures below: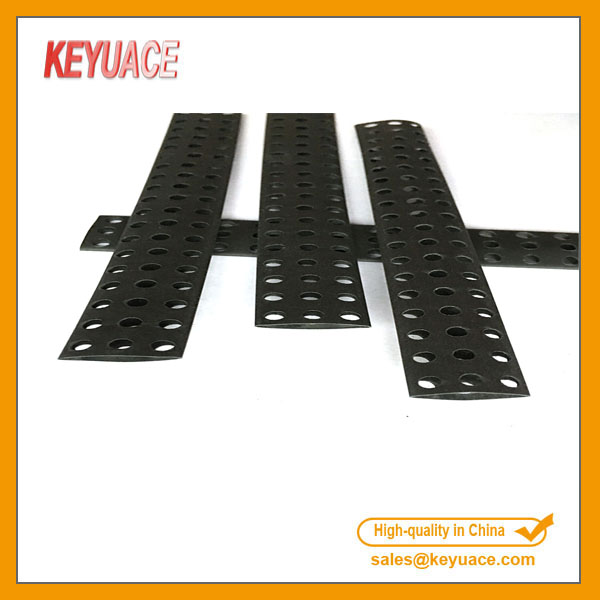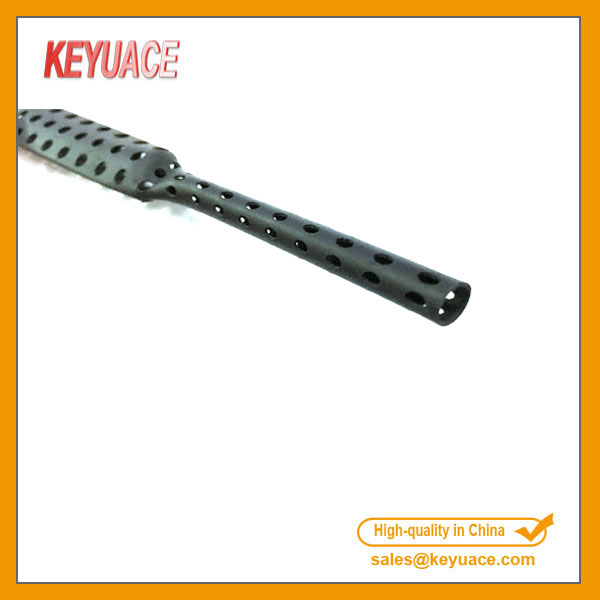 Features
Flexible, fast shrinking
Non slip, nice-looking, user-friendly
Min shrink temperature: 60 degrees C
Min full recovery temperature: 105 degrees C
Continuous operating temperature: -55 degrees C ~125 degrees C
Shrink ratios: 2:1
RoHS compliant
Standard color: Black, Red, Yellow, Green, Blue

Technical Data

Item

Properties

Performance

1

Tensile strength

≥0.8MPa

2

Longitudinal shrinkage

≤±8%

3

shrinkable temperature

≤110℃

4

Dielectric strength

≥10Kv/mm

Size(mm)

Diameter

As supplied (mm)

As recovered (mm)

Packing standard

Inner diameter

wall thickness

Inner diameter

wall thickness

15

16.1±0.2

0.45±0.05

≤7.5

0.80±0.15

1m/piece,200PCS/CTN
1.6m/piece,160PCS/CTN

18

19.1±0.2

0.45±0.05

≤9.0

0.80±0.15

1m/piece,200PCS/CTN
1.6m/piece,160PCS/CTN

20

21.1±0.2

0.45±0.05

≤10

0.90±0.15

1m/piece,200PCS/CTN
1.6m/piece,160PCS/CTN

20T
(Increased inner diameter)

22.1±0.2m

0.45±0.05

≤10

0.90±0.15

1m/piece,200PCS/CTN
1.6m/piece,160PCS/CTN

22

23.1±0.2

0.50±0.05

≤12.5

0.90±0.15

1m/piece,200PCS/CTN




1.6m/piece,160PCS/CTN

25

26.1±0.2

0.50±0.05

≤14.5

1.00±0.15

1m/piece,200PCS/CTN
1.6m/piece,160PCS/CTN

25T
(Increased inner diameter)

27.1±0.2

0.50±0.05

≤14.5

1.00±0.15

1m/piece,200PCS/CTN
1.6m/piece,160PCS/CTN

28

29.1±0.2

0.50±0.05

≤15.5

1.00±0.15

1m/piece,200PCS/CTN
1.6m/piece,160PCS/CTN

30

31.1±0.2

0.55±0.05

≤17.5

1.05±0.15

1m/piece,200PCS/CTN
1.6m/piece,160PCS/CTN

35

36.1±0.2

0.55±0.05

≤20

1.10±0.15

1m/piece,200PCS/CTN
1.6m/piece,160PCS/CTN

40

41.1±0.2

0.55±0.05

≤23

1.20±0.15

1m/piece,200PCS/CTN
1.6m/piece,160PCS/CTN

50

51.1±0.2

0.55±0.05

≤27.5

1.30±0.15

1m/piece,200PCS/CTN
1.6m/piece,160PCS/CTN