Product Description
Female Spade Crimp Terminal

Female Spade Crimp Terminal, Insulated Heat Shrink Butt Connectors is made of polyolefin compounded with hot melt adhesive, Heat Shrink Connector Kit, Heat Shrink Bullet Connectors it has excellent insulation protection, waterproof and anti-corrosion performance. Heat Shrink Terminal Kit, Heat Shrink Solder Terminals the middle copper tube is high pure purple copper tube with superior conductivity.



Heat Shrink Wire Connectors Kit, Bulk Heat Shrink Connectors it has the advantage of good durability, Heat Shrink Wire Crimp Connectors, Heat Shrink Wire Connector Kit easy operation and low installation cost compared with conventional connector.





Product application:
1, Generally applied to electric wire, wire harness, cables and electric connector for protection.
2, Applied to rough environment for strengthen the fixed and anti-shock function.

Product feature:
1, Shrink ratio: 3:1
2,Color: Red, blue, yellow
3, PA hot melt adhesive has superior waterproof performance.
4, Extension performance is superior, resistance to mechanical damage.
5, Good electrical conductivity.
6, High elasticity, tube is not easy to deformation.

Operating indicators:
Initial temperature: 80 degrees C
Min. Shrink temp.: 130 degrees C
Working temperature: 55 degrees C ~ 125 degrees C

Up to standard: Approvals
According with UL224, ROHS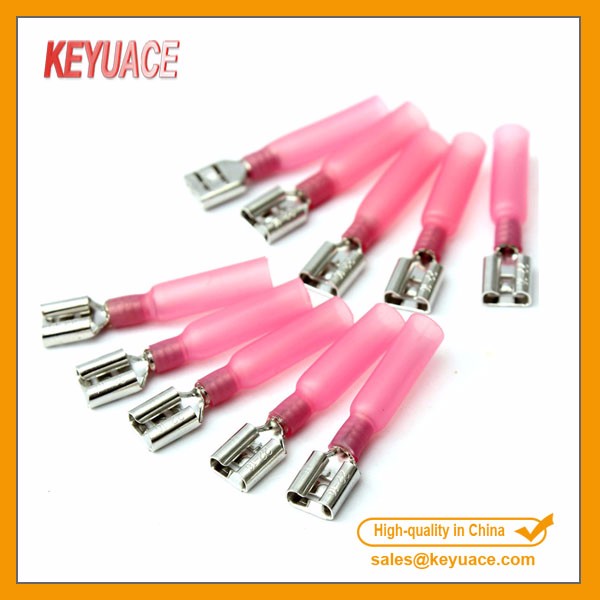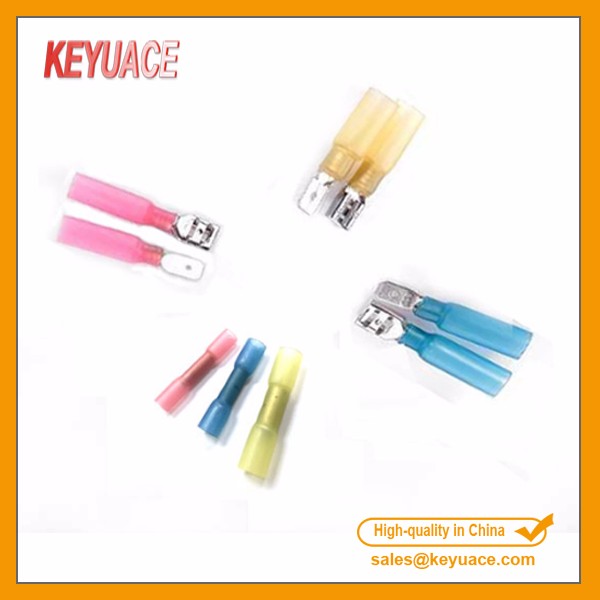 Product Property

Test method

Test Date

Before aging

Tensile strength


room temperature

≥15.9MPa

Elongation

≥200%

After aging

Tensile strength

159℃/7 days

≥11.6MPa

Elongation

≥100%

Voltage withstand and breakdown voltage ( Before aging )

room temperature

2500V,60sec,
No breakdown

Voltage withstand and breakdown voltage ( After aging )

159℃/7 days

Withstand 2.5KV for 1minute and breakdown at least half of unaged breaddown voltage

Copper corrosion

pass

Copper stablity

No sign of degradation Min.Elongation 100%

Cold bend test

-30℃/3 hrs

No crack

Maximum secant modulus(2%)

-

250MPa

Volume resistivity

-

≥1014Ω-cm

Heat shock test

250℃/4 hrs

No crack

Part Number

Wire dimension

Heat shrink tube(mm)

Copper tube(mm)

COLOR

Packing

A.W.G

mm2

ID

OD

L

OD

ID

L

Pcs/bag

HSCT-01

22-18

0.5-1.0

4.7

5.8

36.0

3.8

1.7

15

RED

1000

HSCT-02

16-14

1.5-2.5

5.7

6.9

36.0

4.8

2.4

15

BLUE

1000

HSCT-03

12-10

4.0-6.0

6.7

8.0

42.0

5.7

3.6

15

YELLOW

800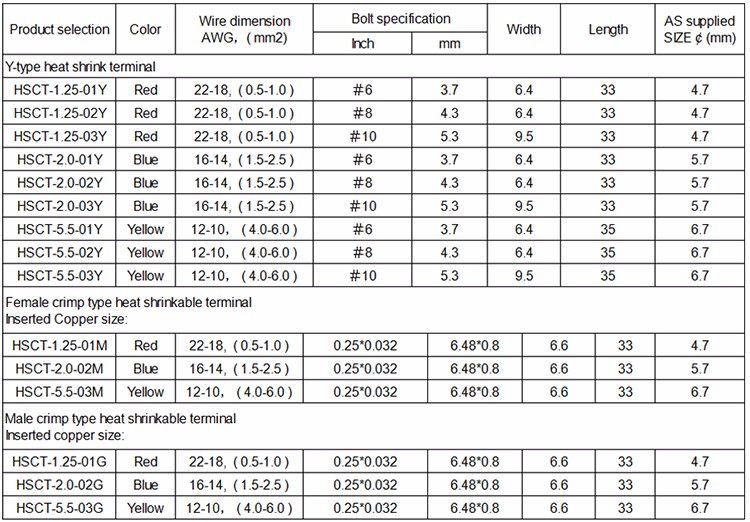 Our Services
Excellent quality and reasonable price to provide.

- We do quotation within 2 days and welcome your any inquiry at any time.

- More details pelease call or email to us directly!

1.We are already have 3 factories located in SZ, abound of material and market resources, high quality, competitive price, best service.

2.As a professional manufacturer of Insulation Heat Shrinkable Terminal Sleeve for more than 10 years. our products are exported to USA, Europe country, Middle East , South America and so on.

3.Workflow: your idea →we make sample and send to you →you confirm and order →deposit →product →pay balance →shipment →After service