Product Description
FEP Heat Shrinkable Tube / Teflon Heat shinkable Sleeving

Product Description

FEP teflon heat shrink sleeving is made of polyterafluoroethylene propylene ( FEP ).
The products generally apply to:
1, Protect and insulate electronic components, resistance and capacitor, and thermocouple from the high temperature oil environments.
2, Provide machinery protection for all kinds of metal wire. For example: protect, insulate and reinforce the end of the wire, wiring, and terminal.
Feature & Benefits:
1, Noninflammability, non-stick, environment protection without pollution, anti-UV
2, Anti chemical corrosion:
It's only resistant to fluorine and alkali metal in high environment and can't work to all other strong and thin inorganic acid,alkali and ester.
3, Electric insulation
60HZ-60MHZ dielectric constant is 2.1 in high and low temperature.
4,Volume resistance>1018ΩM , surface resistance > 1013Ω , arc resistance>165 seconds, no electric leakage.
5, Low friction, dynamical friction coefficient: 0.2-0.3.
6, resistance to low and high temperature: -200--200℃
7, Heat shrink ratio: 1.7:1 ,longitudinal shrinkage: ≤8%
FEP Tube / Teflon Tube Applications:
1, Cover the roller and idler wheel in machinery. ( Office machinery, papermaking
machinery, printing and dyeing machinery, printing machinery, etc.)
2, Cover the rolling shaft of conveyor belt ( Non-stick oil )
3, Insulating sheath, insulate the motor rotor, water treatment\oil field and other magma sample preparation industries.
4, Apply to anti-explosion for the fluorescent light tube.
Operating temperature
1, Max. Shrink temp.:260℃
2, Operating temp.: -55℃~200℃
Dimension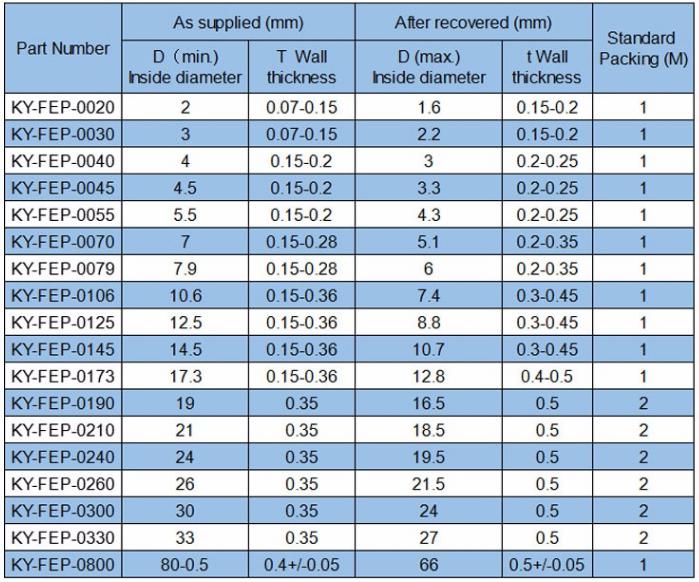 Technical Date