Product Description
High Tensile Insulation Heat Shrink Terminal Connectors

Heat Shrink Terminal Connectors, Heat Shrink Bullet Connectors, The outer insulation material by flame retardant polyolefin PE and inner EVA hot melt adhesive double structure, Heat Shrink Electrical Connector, Heat Shrink Solder Terminals is often applied to all kinds of wire and cable, wiring harness, connector, metal pipe, waterproof, moisture-proof, anti-corrosion insulation sealing environment, binding and fixing and other fields.
Heat Shrink Solder Splices, Bulk Heat Shrink Connectors is One piece design,it consists of transparent heat shrinkable sleeve and fluxed solder. Provides insulation easily and lower the installed cost. Color hot-melt glue on two ends of heat shrinkable tube, Heat Shrink Wire Crimp Connectors, Insulated Heat Shrink Butt Connectors it`s very convenience to use the exact wire dimension.

Product Application:
Heat Shrink Wire Connector Kit High tensile, waterproof, Designed for wire joining.

Product Features:
>Shrinking ratio 2:1
>Waterproof for wiring splices
>Transparent sleeve provides precise inspection
> High Tensile Strength
>Easy control soldering process

Operating Temperature Range:
Working Temperature: -55 degrees C~125 degrees C
Start Shrink Temperature: 80 degrees C
The solder ring begins to melt: 125 degrees C
Full melting temperature of solder ring: 160 degrees C

Performance Parameter:
Shrinkage Temperature:>160 degrees C
Working temperature:-55~125 degrees C
Dielectric strength: 1KV
Levels of protection: 1P 67

Up to standard: Approvals
Meet UL, RoHs, Reach

Model

Product Size(mm)

Wire Size(mm)

Wire

Standard Color

A (Min)

L

(Min)

B

(Min)

B and C

(Max)

C

(Min)

A.W.G

(mm2)

HSCT-KL-1

1.7

26

1

1.7

0.76

26-24 (0.25-0.34)

Transparent

HSCT-KL-2

2.7

40

1.4

2.7

1.2

25-18 (0.5-1.0)

Red

HSCT-KL-3

4.5

40

2.3

4.5

2

16-14 (1.5-2.5)

Blue

HSCT-KL-4

6

40

3.7

6

3.4

12-10 (4.0-6.0)

Yellow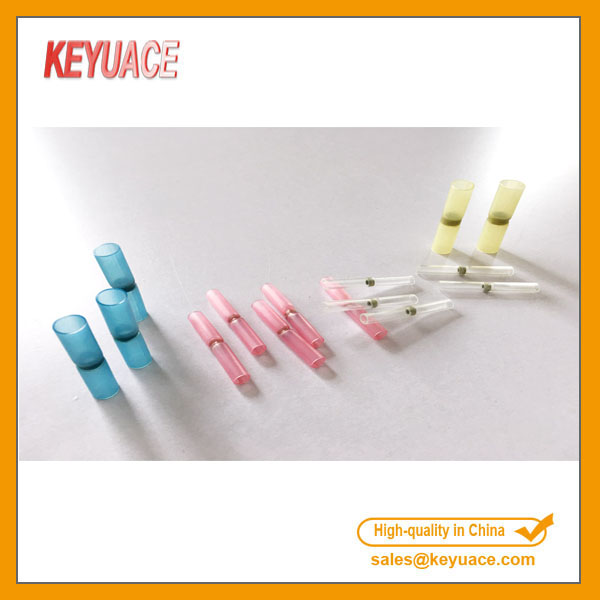 Our Services
Excellent quality and reasonable price to provide.

- We do quotation within 2 days and welcome your any inquiry at any time.

- More details pelease call or email to us directly!

1.We are already have 3 factories located in SZ, abound of material and market resources, high quality, competitive price, best service.

2.As a professional manufacturer of Insulation Heat Shrinkable Terminal Sleeve for more than 10 years. our products are exported to USA, Europe country, Middle East , South America and so on.

3.Workflow: your idea →we make sample and send to you →you confirm and order →deposit →product →pay balance →shipment →After service