Product Description
Mixed Color Heat Shrink Tube Sleeving

Mixed Color Heat Shrink Tube Sleeving, made of radiation cross-linked polyolefin, is designed with excellent physicochemical and electrical properties. Heat shrink tube kit , Heat Shrink Sleeve Kit typical applications include insulation of electrical connections or wire splices, rust and corrosion resistance for the soldered joints or connections, mechanical and wiring harness protection and insulation in electronics, communications, automotive, marine, aircraft manufacturing and other fields.
Hardware Kit Heat Shrink Tube, Shrink Wrap Tubing Kit , thin wall tubing composition ideal for wholesalers, small shops, automotive repair shops or any electrical work shops.
Heat Shrink Tubing Kit , Shrink Tube Kit with Plastic Bag Colorful Lowest Price.
* Large sizes are available
* Soft and flexible.
* Flame retardant, excellent sealing capability and Excellent Water Resistance.
Features:
100% brand new and high quality
Color: Yellow, Blue, Black, Green, Red
Supplied internal diameter: 1mm, 2mm, 3mm, 4mm, 6mm, 8mm, 10mm, 14mm
Fully shrunk internal diameter: 0.5mm, 1mm, 1.5mm, 2mm, 2.5mm, 3mm, 4mm, 5mm

Specifications:
Material: Polyolefin
Color: Yellow, Blue, Black, Green, Red
Shrinkage Ratio: 2 : 1 (will maximum shrink to 1/2 its supplied diameter)
Material : Polyolefin
Minimum Shrinkage Temp : +70 centigrade
Full Shrinkage Temp : +110 centigrade (maximum)
Operating Temperature : -55 centigrade to +125 centigrade
Tensile strength: 10.4 Mpa
Dielectric strength : 15 KV/mm
Flammability : Flame Retardant
Cutting method : Scissors or sharp knife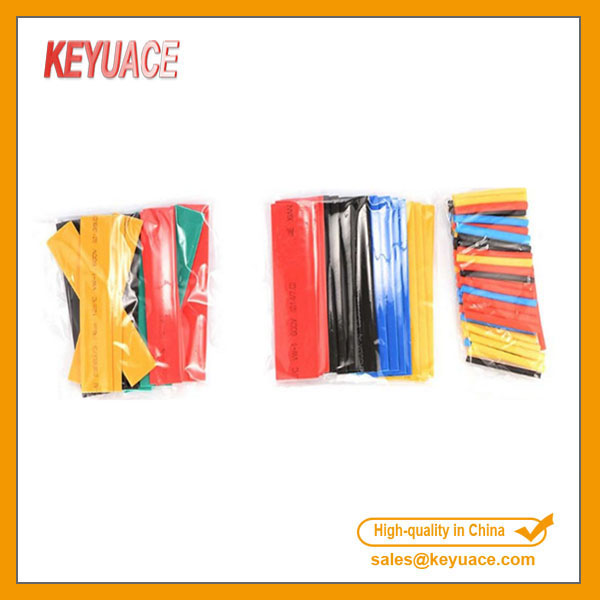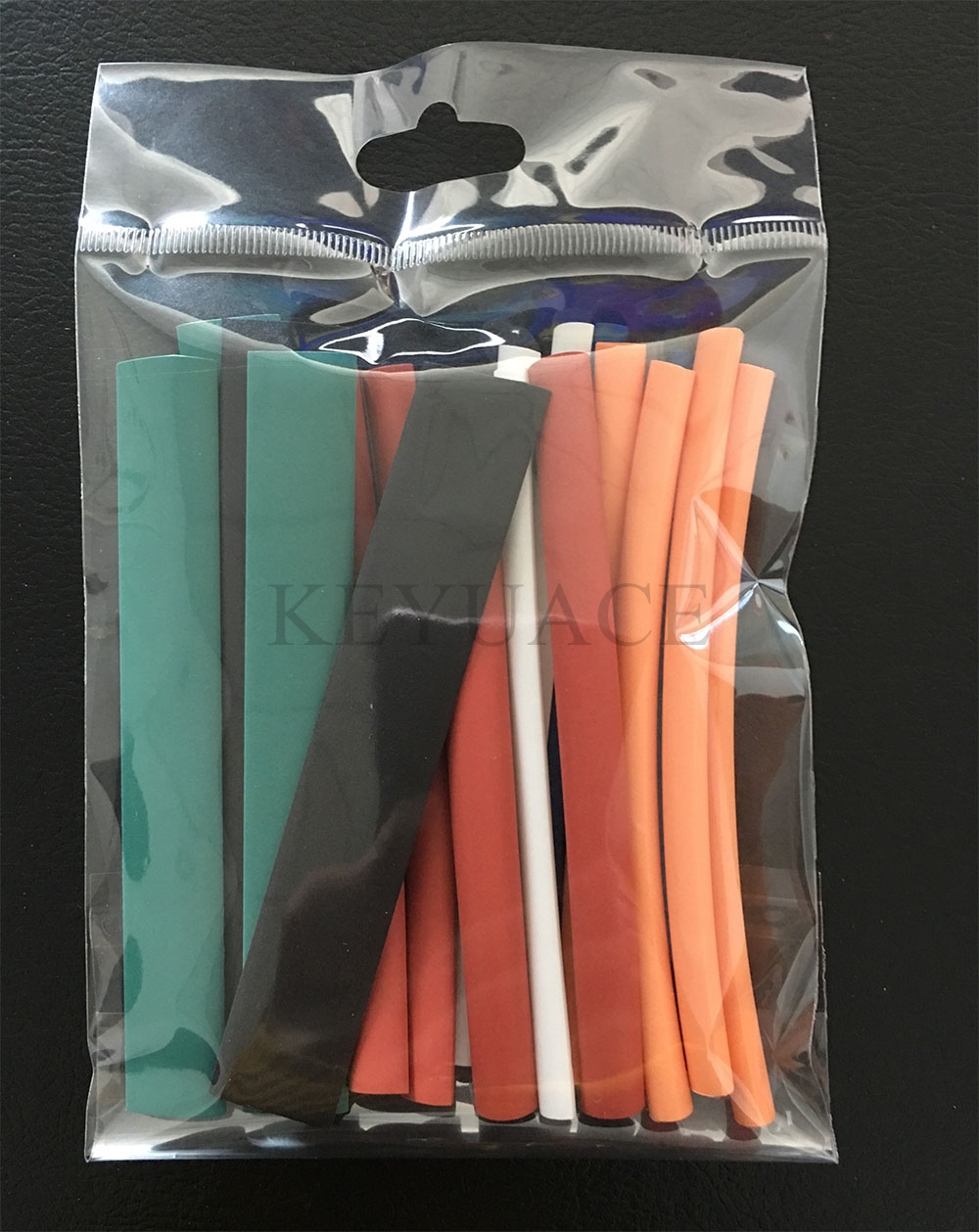 SIZE

(MM)

As supplied (mm)

After recovered

Standard Length(Meter)

Application

Range(mm)

Inner diameter(D)

Wall Thickness(T)

Inner

diameter

( d )

Wall

thickness

( t )

m/roll

φ0.6

0.9±0.2

0.20±0.05

≤0.40

0.33±0.10

200

0.5~0.7

φ0.8

1.1±0.2

0.20±0.05

≤0.50

0.33±0.10

200

0.6~0.8

φ1.0

1.5±0.2

0.20±0.05

≤0.65

0.36±0.10

200

0.75~0.9

φ1.5

2.0±0.2

0.20±0.05

≤0.85

0.36±0.10

200

0.95~1.4

φ2.5

3.0±0.2

0.25±0.05

≤1.30

0.45±0.10

200

1.4~2.3

φ3.0

3.5±0.2

0.25±0.05

≤1.50

0.45±0.10

200

1.6~2.7

φ2.0

2.5±0.2

0.25±0.05

≤1.00

0.45±0.10

200

1.1~1.8

φ3.5

4.0±0.2

0.25±0.05

≤1.80

0.45±0.10

200

1.9~3.2

φ4.0

4.5±0.2

0.25±0.05

≤2.00

0.45±0.10

200

2.1~3.6

φ4.5

5.0±0.2

0.30±0.08

≤2.30

0.56±0.10

100

2.4~4.0

φ5.0

5.5±0.2

0.30±0.08

≤2.50

0.56±0.10

100

2.6~4.5

φ5.5

6.0±0.2

0.30±0.08

≤2.75

0.56±0.10

100

2.85~5.0

φ6.0

6.5±0.2

0.30±0.08

≤3.00

0.56±0.10

100

3.1~5.4

φ7.0

7.5±0.3

0.30±0.08

≤3.50

0.56±0.10

100

3.7~6.3

φ8.0

8.5±0.3

0.30±0.08

≤4.00

0.56±0.10

100

4.2~7.2

φ9.0

9.5±0.3

0.30±0.08

≤4.50

0.56±0.10

100

4.7~8.0

φ10

10.5±0.3

0.30±0.08

≤5.00

0.56±0.10

100