Product Description
N Type White Color Plastic Cable Markers

Cable Marker For Electric Wire 1.5mm - 6.0mm have high flexing ability to grip the wire marker tightly without sliding.
Flexible Cable Marker, Cable Marker For Electric Wire Push the Slip-On wire marker forward with the thumb, and the marker snaps on, firmly gripping the electrical wiring.
N Cable Marker, 1.5mm Cable Marker, 6.0mm Cable Marker, The temperature range for Snap-On wire markers is from -30(℃) to 100(℃).

N Type White Color Plastic Cable Markers, Underground Cable Markers we have stock, you can pick up the goods at anytime.


1. Waterproof, no deformation, any combination, between Kaka can be fixed, easily into the machine room wiring;
2. UL approved Nylon66, 94V-2;
3. Various combinations of different colors make the route markings more intuitive;
4. The closed gripper design improves the traditional sleeve approach;
5. Double column double hole design, so that the letters arranged neatly, can be arbitrarily combined;
6. The marking material is flexible and can be used in a certain line diameter range;
7. The claw has an upside down and is stuck on the wire without falling off;
8. Digital 0-9, letter A-Z, - etc;
9. Environmental protection, through the RoHS 10 certification;
10. Not easy to trans figure and beautiful, clear printing and longer lasting (not fade easily).


Item No.

Suitable Wire

sq

Suitable Rang

Size

Std.Markings

Packing

L

Φ1

Φ2

VS-1

0.12-0.3

0.95-1.3

2.3

0.9

1.7

0,1,2,3....9 A,B,C,D.....Z +,-

30pcs/stick

S-1

0.5

1.90-2.2

3

1.8

2.8

N-1

0.75-1.25

2.84-3.4

3

2.7

3.9

N-2

2.0-3.5

3.40-4.6

3

3.2

4.6

N-3

3.5-5.5

4.60-5.9

3

4.4

5.8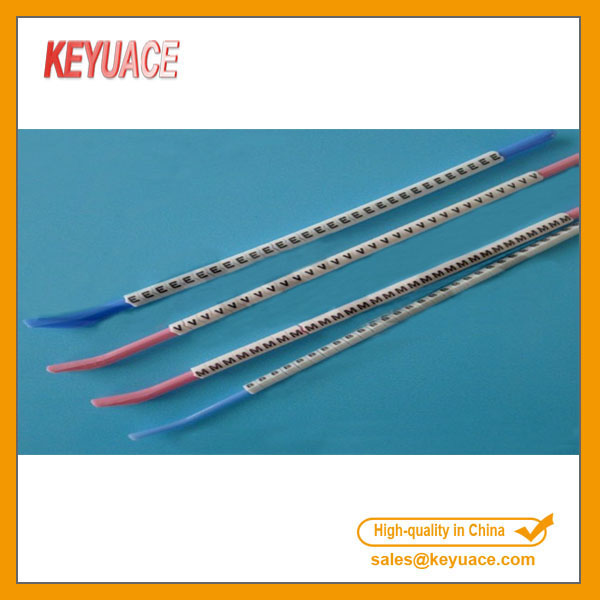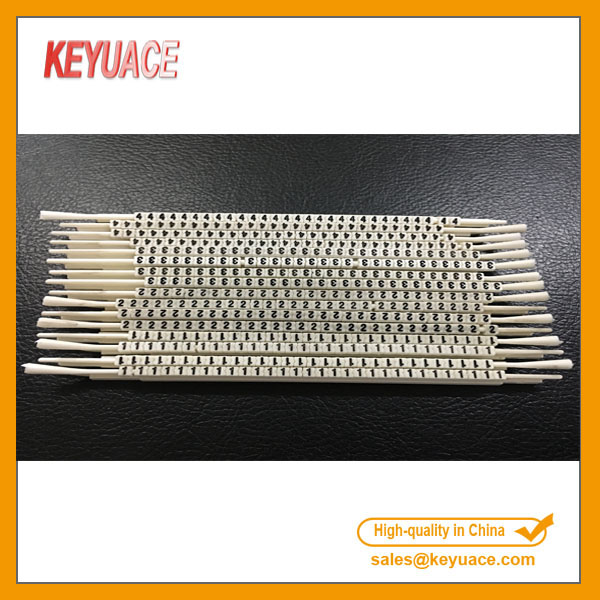 Packaging & Shipping:
Neutral Export Packing

1 stick=30 Nos.

OEM packing available
Our Services:

Excellent quality and reasonable price to provide.

- We do quotation within 2 days and welcome your any inquiry at any time.

- More details pelease call or email to us directly!

1.We are already have 3 factories located in SZ, abound of material and market resources, high quality, competitive price, best service.

2.As a professional manufacturer of Color Coded Cable Marker for more than 10 years. our products are exported to USA, Europe country, Middle East , South America and so on.

3.Workflow: your idea →we make sample and send to you →you confirm and order →deposit →product →pay balance →shipment →After service

FAQ:
1. Q : Can you make customized products and customized packing?
A: Yes.We made a lot of customized products for our customer before.
And we made many moulds for our customers alread.
About customized packing,we can put your Logo or other info on the packing.There is no
problem.Just have to point out that ,it will cause some additional cost.

2. Q: Can you provide samples ? Are the samples free ?
A: Yes,we can provide samples.But you have to pay for the shipping cos.
If you need many items, or need more qty for each item,we will charge for the samples.

3. Q: What kind of payment do you accept ? Can I pay RMB ?
A: We accept T/T(Wire transfer),Western Union and Paypal. Please be sure that we can receive the
same amount of the Invoice. And you can pay money In RMB. No problem.

4. Q : What about your delivery time?
A: We have a lot of products in stock.We can send the stock products in 3 work days.
If without stock,or stock is not enough, we will check the delivery time with you.
5. Q: Do you have a guarantee of your product quality?
A: We have a guarantee of one year.
Any requirements or question,welcome to
"Send
"
us an e-mail Now!!!
It's our great honor to do services for you! You also can get the FREE SAMPLES soon.