Product Description
Neoprene Zipper Cable Management Sleeve

LDXJ Office Flexible Zipper Cable Sleeves Neoprene, Braided Polyester Sleeving is made by highly durable and flexible soft neoprene, single wall thickness is about 3mm, with zipper design, Neoprene Cable Management Sleeve, Braided Electrical Sleeving, Braided Cable Sleeve it`s convenient to coat and maintain the cables. This productive Wire Harness Protecting Sleeving has the effects of cooling, shockproof and noise reduction, Neoprene Cable Sleeve, Black Braided Cable Sleeving also applies to bind multiple cables( electric wire) not to make the cable chaotic, and let your office(home) environment more clean and tidy.
Keep Your Home and Office Clean
Are your cables a big tangled mess? Use the 4 included 20" cable sleeves to organize different sets of cables around your home and office.
Our sleeves will keep your cables and cords concealed and out of the way.

Premium Quality Neoprene
Our cable organizers are each made using high quality Neoprene. It's thicker than our competition to ensure maximum life.
It's also supremely flexible and built to last. Can easily bundle together several cables without any problems.

Great Design
This zipper cable sleeve is compact and stylish. It does a great job of keeping your cords hidden and will look great in any room. Material is flexible which allows multiple cables to be bundled at a time.

Easy To Use
It's super easy to install our cord sleeves. Just wrap your desired set of cords and zip them up. Can also cut openings on the side of the sleeves to allow cables to exit if needed.

FIX YOUR CABLE MESS WITH EASE: Flexible neoprene cable sleeve with zip-up solution manages and conceals cables while providing easy access.

QUALITY YOU CAN COUNT ON: KEYUACE cable sleeves are made of premium neoprene material that doesn't rip or tear easily - whether they're stepped on by guests or chewed on by the family dog.

Product feature:
1, Super Length cable management sleeve total 118'' can be cut into several sleeves for multiple use, tidy up more cable mess in your house or office.

2,Reversible black/white colors for 2 ways of installations, you can choose any side as the visible to match your décor.

3,Cuttable and expandable by yourself, DIY holes at any position you want and cut down into several smaller pieces cable sleeves.

4,Premium quality material of neoprene to protect your cords form tearing, as well as keep it clean for you durable use.

5,All the cords are wrangled up and hidden in one sleeve from sight, no need to worry the messy tangled cables depressed you or trip your kid, it makes your living and working space look more organized.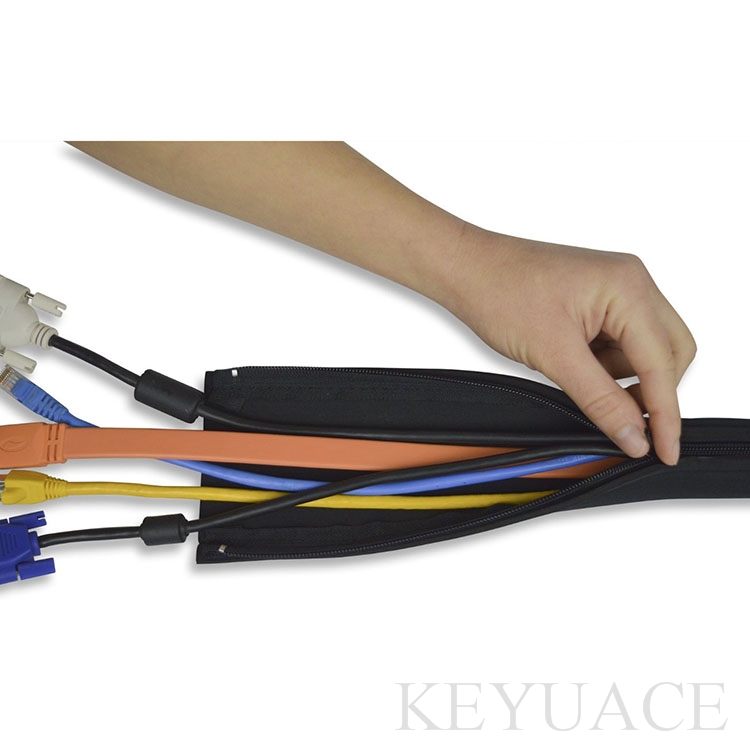 Product:Neoprene Cable Management Sleeve
Material:Sleeve-----Neoprene
Zipper----Nylon
Working Temperature:-40C~+150C
Stadard Color:Black,White,Or ODM colors

Application:
A perfect cable management system for power cords, audio cables, USB cords, cell phone chargers, camera cords, headphones and any other wires at home, office or workshop.