Product Description
Aluminized Hook and Loop Fastener Sleeving

Aluminized Hook and Loop Fastener Sleeving Making Hook and Loop Fastener aluminum foil glass fiber sleeving need to Cut the aluminum glass fiber cloth in to a certain width at first, and then seam the hook & loop on both side of it.
Aluminized Kevlar Reflectsleeve, Fire Sleeve For Hose has two layers of aluminum coating and a protective film, all laminated to a specially designed heavy grade aramid fiber cloth by means of a heat stable adhesive. The aluminum layers will not delaminate from the cloth, even under the most extreme heat conditions.
Aluminized Kevlar Reflectsleeve offers continuous operating temperature protection to 500°F and short term thermal exposure to 1000°F. The sleeve reflects 90% of radiant heat energy and also offers excellent cut resistance.
Applications for line sleeve - industrial wires -cables/hoses (hydraulics) -piping + tubing from radiant heat sources; such as liquid metal pour steam, glowing steel slab, infared heaters, open flame/plasmas or engine exhaust manifolds

High Resistant Insulation Sleeve Fire Resistant Cable Sleeves is also offered reversed upon request - Kevlar on the outside for severe abrasion-type applications. With reversing the sleeving, Fiberglass Sleeving for Fire Sleeves, Fire Sleeves For Cables it offers good thermal protection and excellent cut-through protection.

Product Feature:
1, have good radiation properties of light and heat.
2, The hook & loop make the installation and disassembly simple and fast
3, heat insulation protection

Product Application:
1, Widely used in wire, cable and horse of automobile, industries, shipbuilding for providing excellent heat insulation protective in high temperature.
2, Apply to high temperature metal board, melting metal or glass, open fire and engine exhaust equipment.
Continuous working temperature: 540 degrees C.
Aluminized Kevlar Reflectsleeve quick facts
| | |
| --- | --- |
| Continuous operating temperature | 650°F (343°C) |
| Max short term exposure | 1000°F (538°C) |
| Molten splash resistance | Outstanding |
| Weld spatter resistance | Outstanding |
| Flame resistance | Outstanding |
| Abrasion resistance | Outstanding |
| Flexibility | Outstanding |
| Water and oil resistance | Outstanding |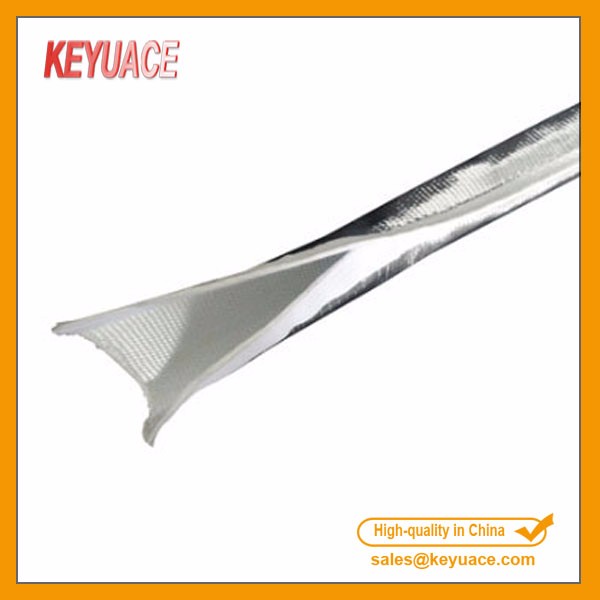 Specification avalable:


| | |
| --- | --- |
| Inner Diameter | 10mm-310mm(3/8"-12 1/5") |
| Thickness | 0.4mm,0.75mm,1.5mm,2.0mm,3.0mm |