Product Description
Aluminum fiberglass tube / Foil Heat insul Sleeves

Aluminum fiberglass tube is made of two layers, the inner is weave by glass fiber yarn, the outer layer coats a layer aluminum. Due to the use of special processing, Foil Heat insul Sleeve, Fire Resistant Fighting Fire Sleeve the product good shading, reflecting heat, insulating heat, shielding signal, resistance to high-low temperature and other good characteristics.
Fire Sleeves protects continuously to 260 degrees C/500°F and will withstand a molten splash at 1200 degrees C/2200°F. Thermal insulation Aluminium Foil fiberglass sleeving Made of knitted fiberglass yarns in a flexible substrate.Aluminum foil fiberglass sleeving can withstand repeated exposures to molten steel, molten aluminum and molten glass up to 3000°F (1650 degrees C).

Product application:
Aluminum foil glass fiber sleeving, Fire Sleeve For Hose can be used in electric wire, cables and hose of automobile, industrial and ship`s industries in high temperature environment for heat insulation protection, Fire Resistant Cable Sleeves also applies to high temperature board, molten metal or glass, open fire and Engine exhaust equipment.
Foil Heat insul Sleeving, Fire Sleeves For Cables is widely used in construction, electrical and mechanical, chemical, shipping, aviation, textiles, metallurgy, food profession and so on , for their ventilation, dust removal , smoke extraction, gas transportation and cable protection.


Product size drawing:

Technical parameters:
1, The outer material: high temperature aluminum foil
2, Lining material: glass fiber
3, Working temperature: - 50 ℃, + 200 ℃
4, Standard color: silver
5, Certification: ROHS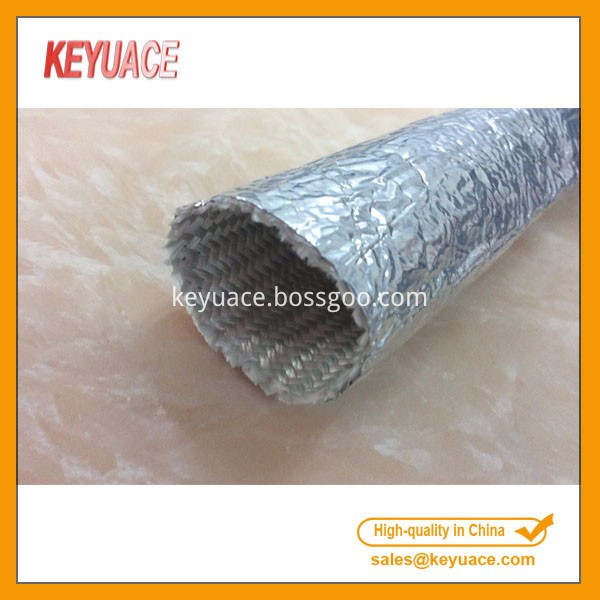 Remark:
1, inner diameter is the diameter when the sleeving is roundness, not the lay plat width.
2, special packaging, special color, etc, can be customized according to customer's requirements.
3, product detail parameters, please refer to our approval sample sheet.
Part NO.

ID
(MM)

Lay flat(W)
(MM)

Wall thickness

(T) (MM)

Max. Wire harness diameter(MM)

Packaging

(m/roll)

OAF-010

10.0

19.0

1.0

11.0

50m/roll

OAF-016

16.0

29.0

1.0

17.0

50m/roll

OAF-020

20.0

35.0

1.0

21.0

50m/roll

OAF-025

25.0

43.0

1.0

26.0

50m/roll

OAF-030

30.0

51.0

1.0

31.0

1m/piece

OAF-032

32.0

54.0

1.0

33.0

1m/piece

OAF-035

35.0

59.0

1.0

36.0

1m/piece