Product Description
Glass Fiber Braided Fireproofing Sleeve

Glass Fiber Braided Fireproofing Sleeve, Braided Polyester Sleeving, Braided Cable Sleeve is made of alkali-free glass fiber filament braided sleeve which are dried with steep special flexible resin after high temperature treatments.

Fiberglass Braided Sleeves is high temperature resistance performance, Red Braided Cable Sleeving, Braided Electrical Sleeving, Black Braided Cable Sleeving it`s widely used in electrical machine, electric appliance, automobile and other high temperature application industry.
1.Binding high temperature braided sleeves
Binding high temperature sleeve are used for high temperature protection, bent pipe and other irregular protected objects around convenient, also suitable for outdoor high temperature pipeline, such as natural gas pipeline, heating pipeline, the thermal insulation function, reducing heat loss.

2.Velcro high temperature sleeve
The biggest advantage of Velcro high temperature sleeve is installed in the thermal protection sleeve, do not need to stop the device does not need to remove the hose and cable. Another advantage is that the scene can be installed in the factory, to ensure the integrity of the correct density and structure. The buckle type high temperature glass fiber, the internal suture is sticky buckle the fireproof casing, adjusted to the appropriate size, you can use tape closely.


Product characters:
| | |
| --- | --- |
| Thermal Class | C |
| Size/inner diameter: | 4mm-50mm |
| Colour: | black, red & blue, accept customized |
| Working temperature: | -70 degrees C ~ 650 degrees C |
| Breakdown voltage: | 1kv |
PART NO.

INNER DIA./mm

WALL THICK /mm

Nominal

Tolerance

Min.

Max.

DWH-040

4

±0.30

0.2

0.6

DWH-050

5

±0.30

0.2

0.6

DWH-060

6

±0.30

0.2

0.6

DWH-070

7

±0.30

0.2

0.6

DWH-080

8

±0.30

0.2

0.6

DWH-090

9

±0.50

0.3

0.8

DWH-100

10

±0.50

0.3

0.8

DWH-120

12

±0.10

0.3

0.8

DWH-140

14

±1.0

0.3

0.8

DWH-160

16

±1.0

0.4

1.0

DWH-180

18

±1.0

0.4

1.0

DWH-200

20

±1.0

0.4

1.0

DWH-220

22

±2.0

0.5

1.5

DWH-250

25

±2.0

0.5

1.5

DWH-300

30

±2.0

0.5

1.5

DWH-350

35

±2.5

0.6

1.5

DWH-400

40

±2.5

0.6

1.5

DWH-450

45

±2.5

0.7

1.5

DWH-500

50

±2.5

0.7

1.5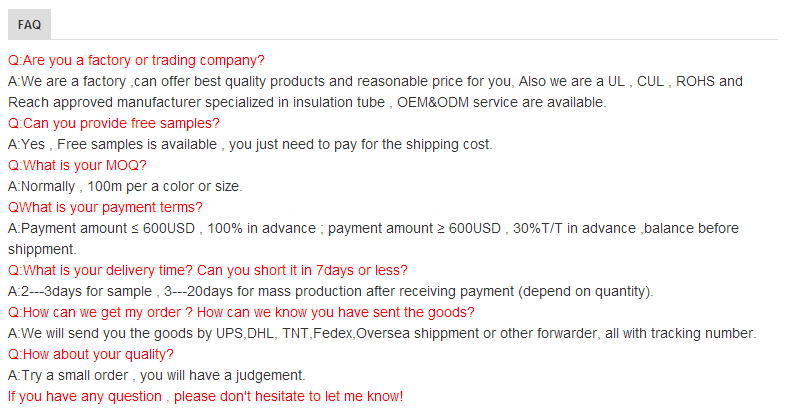 Our Service
High Qualit
Fast Feedback
Excellent After-sale Service