Product Description
Semi Hard Dual Wall Adhesive Lined Tubing

Semi Hard Dual Wall Adhesive Lined Tubing, Dual Wall Heat Shrink Tubing specially designed to insulate,seal and protect wire splices,terminations and components in automotive industrial.High shrink ratio 4:1 and high temperature resistant and corrosion.Semi-rigid outer wall provides excellent abrasion protection and strain relief for strict environment requirement.
Dual Wall Adhesive lined Heat Shrink, Waterproof Dual Wall Tubing the inner PA hot melt adhesive :High temperature resistance, waterproof, damp-proof, corrosion resistance.
Adhesive lined tubing apply to automobile wire harness, household wire harness, wire and cable branch, metal pipeline where need insulated protection.
Automobile Wire Harness Tube, Polyolefin Dual Wall Tubing is characterized by halogen free, Flame resistant.This kind of Heat Shrink Tube is environmentally friendly, soft, Insulation, shrink at low temperature. Dual Wall Tubing, Dual Walled Electrical Heat Shrink Tubing the voltage level of this heat shrink tube is 600V.
Features & Benefits
1, Semi-hard materials, flame resistance, abrasion resistance, anti-UV.
2, High shrink ratio: 4:1
3, Superior sealing, waterproof, dampproof, corrosion resistance.

Operating Indexes
1, First Shrink Temp.:70 degrees C
2, Final Shrink Temp.:125 degrees C
3, Working Temp.:-45~135 degrees C

Up to standard: Approvals
According with ROHS,135℃, 600V
Standard color is black, other internatioanl size can be customized.
Pointed size can be customized.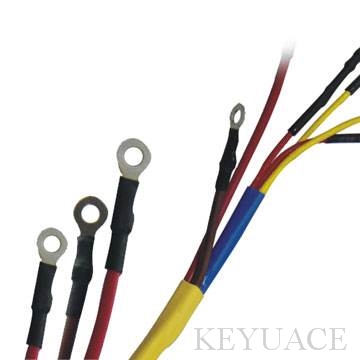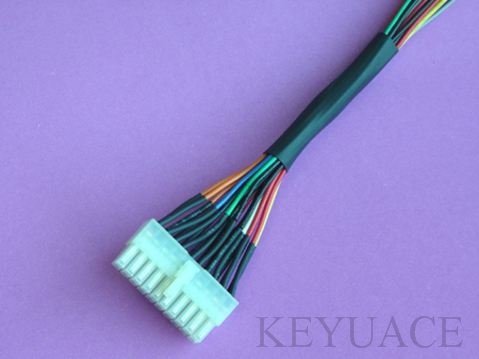 Property
Test Merhod
Typical Value
Operating temperature
IEC 216
-55℃~130℃
Tensile strength
ASTM D 2671
>14MPa

Tensile strength after aging 158℃,

168hrs

ASTM D 2671
Remains 70%
Elongation at break
ASTM D 2671
>200%

Elongation at break after aging 158℃,

168hrs

ASTM D 2671
>100%
Longitudinal shrinkage
UL223
0~10%
Heat shock
250℃,4hrs
No cracking,no dropping
Cold bend -40℃,1hr
ASTM D 2671
No cracking
Voitage withstand AC 2500V,60 seconds
ASTM D 2671
No breakdown
Volume resistance
ASTM D 876
>1014Ω.cm
Flammability
SAE-AMS-DTL-2353/5
Selt extinguish in 30 sec.
Copper corrosion 158℃,168hrs
UL 224
Pass
Water absorption
ASTM D 570
<0.5%


Part No.

as supplied

After recovered

Package(m/roll)

I.D. (min)

I.D.(max.)

W.T.(min)

A.W(min)

HESA-1

5.72(0.225 )

1.27(0.050 )

1.20(0.047)

0.56(0.022)

100

HESA-2

7.44(0.293 )

1.65(0.065)

1.52(0.060)

0.76(0.030)

50

HESA-3

10.85(0.427)

2.41(0.095)

1.91(0.075)

1.02(0.040)

50

HESA-4

17.78(0.700 )

4.45(0.175)

2.41(0.095)

1.37(0.054)

25